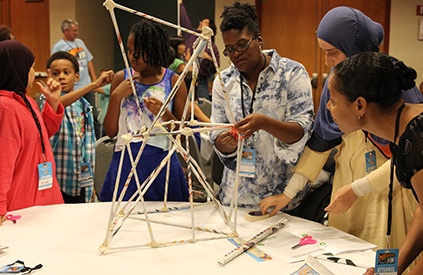 Family Math Workshops
You and your family explore mathematics in our hands-on, interactive Family Math Workshops facilitated by expert math educators.
Math Is Everywhere! (Kitchen Math Experience)
Families and students pre-K to 6th grade
This workshop helps parents and their children see everyday activities through a math lens. Put your goggles on and see math everywhere, and use math in fun ways with everyday activities!
Build a Skyscraper: The Geometry of Stable Structures
Families and students 2nd grade to College
In this friendly competition your family collaborates to build the tallest structure using only straws, newspapers, and masking tape! Discover how Geometry is an essential part of engineering and architecture during this fun problem-solving session.
Games, Games, and More Games!
Fun for all
Games are a great way for families to interact and share fun times. But did you know that many games can also build math aptitude? Play games with your family that build problem-solving skills, strategic thinking, and fluency with the four operations.